BioLogic Revelation by Wayne Caparas
About The Author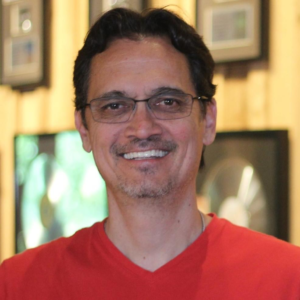 Athletics, Education, and Early Years
From the very beginning of his adult life, author Wayne Caparas's personal story revealed the DNA of BioLogic Revelation in the making. A three-sport scholar athlete as a prep in the Charleston, South Carolina area, Wayne received scholarship offers in both football and track (wide receiver and sprinter), but suffered sports injuries and family crises early on that prematurely ended his dream of playing football for a living. He had followed in his brother Rally's footsteps to play D1 football for Dick Sheridan's Furman Paladins (Greenville, SC), which at the time was a Southern Conference powerhouse. The Furman Scholar honoree transferred home to the College of Charleston to finish his BS Degree (Cum Laude, Business and Physical Education). In his post-football college years, Wayne filled his need for competitive sports with long hours in the gym and occasional bench press competitions. Strength and speed were his obsessions during these years. He started graduate school at the University of South Carolina in 1988 while working as a consultant and apprentice at the state's only health club design firm. Within a year, Hurricane Hugo struck Charleston with such force that the resulting economic disaster triggered an unprecedented chain-reaction of gym and health club closings in the region. In response, Wayne and a team of very talented graduate athletes (brother Rally Caparas included) launched their first medium-sized health club in the epicenter of the Greater Charleston area.
Reaching the Global Audience
Several years and five health clubs later, Wayne emerged as one of the new pioneers of the modern fitness industry. Upon garnering numerous awards and published accolades, his second chain of Charleston area health clubs (LifeQuest Fitness) gained acclaim among the most innovative fitness organizations in America (see the "Portfolio Highlights" below). By 1994 Wayne had also broken into publishing and journalism in the burgeoning genre of women's fitness. He first co-developed the award-winning Vie Magazine, then was instrumental in the conception and launch of Oxygen Magazine—serving as a contributing editor for its first three years on the newsstand. During this time, fitness icon (the late) Robert Kennedy—writer of 50+ books and founder of Oxygen, Clean Eating, and Muscle Mag International—took Wayne under his wing and began mentoring him. Lengthy discussions with "Bob" Kennedy and deep study of his strength training theories propelled Wayne's research into fast-twitch muscle training and anti-aging science.
Shortly before the turn of the century, in addition to lecturing for the American Council on Exercise (ACE) and IHRSA, Wayne broke new ground as a research journalist for Oxygen and other publications. His most lasting impact on the fitness industry, however, likely came through his pioneering of obstacle course events for television, as his team gained high praise from ESPN and the fitness media at-large for advancing the sport before any of the current broadcast competitions existed. His earliest work in this field involved key contributions to several forerunners including the Galaxy fitness competition, the Maui Superfitness competition, and the Venus Fitness Championships. Wayne created the high-tech LifeQuest Triple Crown Fitness Championships specifically for ESPN broadcast audiences (in partnership with the American Sports Network's ESPN American Muscle show). Through this LifeQuest event Wayne and his team created the "most sophisticated four-lane obstacle course ever created" to prove obstacle course fitness events as legitimate spectator sports, and "they succeeded." (ESPN American Muscle, 1997, see below)
Sparking the Revelation
In the late nineties, following a series of devastating joint injuries suffered during high-impact high-volume training, Wayne was struck with double jeopardy. Despite being a 34-year-old health expert in apparent peak condition, he was diagnosed with an often-debilitating thyroid disorder (Graves Disease). Having grown into a relatively spiritual man during his run at fame and fortune, Wayne stepped back to examine how a fitness expert could possibly have damaged his skeletal system, endocrine system, and other metabolic systems to such devastating degrees. In response, he soon liquidated his fitness industry interests and began research and experimentation into natural healing principles that sparked BioLogic Revelation. Wayne continues today as a writer, media artist, and volunteer speaker/coach. Now well into his late-fifties, despite many setbacks, Wayne is stronger and healthier than ever—heart, soul, body, and mind. Part of his mission will always be to set people free from the many punishing, time-consuming fitness myths while revealing the latest scientific research really has to say about health and the human body. Wayne currently lives in Nashville, Tennessee and serves as the Publisher and Senior Editor at Global Vision Press and Locke Media.
In 1996 and 1997 ESPN and ESPN2 aired the LifeQuest Triple Crown fitness competition to their worldwide audience using the condensed format of their popular American Muscle series. Click here for archived highlights of ESPN's coverage of the inaugural event. Click here to see the Obstacle Course highlight video shown during the indoor finals. The following publications are just a sampling of the print media coverage.